Naukri Recruiter self help guide (FAQs)
Can I give permissions to specific users only to use products that I have purchased?
Yes, you can grant product usage permissions to specific users in case you're logged in as a super-user. For this,
Login to your recruiter's account as a super-user
Hover on photo icon on the top right of the screen and click on 'Manage Sub-Users'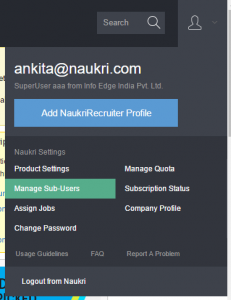 Select the sub-user to whom you wish to assign Resdex permissions for example and click on the 'Edit' icon against that sub-user.

In the dialog that opens up, check the products under the 'Permissions' section and click OK.

Copyright © 2023 Info Edge India Ltd.